Schedule Potential Assessment
Schedule for the observer teams in a two day potential assessment
with 3, 6, 9 or 12 candidates as an example.
Day 2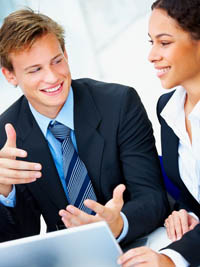 1 - 4 parallel working observer teams, each with 3 candidates to assess.
The candidates change observer teams and work on tests and questionnaires when they are not conducting a task.
See also:
Product page Potential Assessment
We would be pleased to design an assessment that is customized to the requirements of your company and a specific function or target position.
Contact us!
We look forward to offering you advice and information at any time and without obligation.